Introduce about performers(Shite) of Umewaka Theater
梅若 実 (Umewaka Minoru)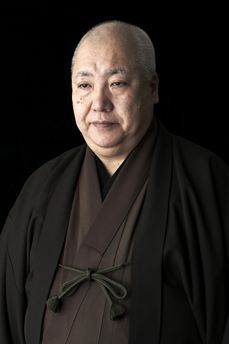 The holder of important intangible cultural property individual certification. (National Treasure)
23 years of Showa period(1948)
Born as the son of Umewaka Rokuro in the 55th year.
26 years First stage at Kurama Tengu
54 years Inheriting the owner of the Kanze school Umewaka Rokuro family
63 years 56th Umewaka Rokuro was named
55 years Art Festival Excellence Award
62 years Minister of Education, Culture, Sports, Science and Technology Award
08 years of Heisei period (1996)
Toshio Kanze Memorial Hosei University Noh Award
11 years Yomiiri Theater GMidared Prize Excellence Award, Japan Art Academy Prize and many other awards
18 years Received the Purple Ribbon Award
19 years Inaugurated as a member of the Academy of Arts
December 8, 20 Renamed to Gensho Umewaka
IV Minoru Umewaka Shumei February 16, 30 years of Hesei period.
26 years Important intangible Cultural Property each individual certification ( National Treasure). Tachibanakai presided over.

Born on July 8, 1956. In Tokyo capital.
He is one of Shite in KanseRyu(Kanze-style). He is a member of the Japan Noh Theater Association.
Important intangible cultural property (general designation).
The gMidaredson of 2nd Umewaka Minoru, a member of the Japan Art Academy.
From the age of three, he has been instructed by his father, Yasuyuki Umewaka, a member of the Japan Art Academy, and his uncle, Rokuro Umewaka, a member of the Japan Art Academy (the late). Rokuro Umewaka VI is a cousin. Currently studying under Rokuro Umewaka, the 56th generation.
1960 At the age of four, the first stage of the dance「老松」_Oimatsu_"Old Matsu"
1968 First stage at「小袖曾我」_"Kosode Soga"
1969 Performed翁_"Okina",千歳_Senzai
1971 Performed鷺_"Sagi"
1973 Participated in overseas performances (IMidare, Germany, Switzerland・ Yugoslavia)
1974 Performed石橋_"Ishibashi"
1981 Performed翁_"Okina"
1983 Performed道成寺_"Dojoji"
1985 Performed望月_"Mochizuki"
1989 Participated in Europaria Japan Belgium performance
1991 Performed鉢木_"Hachino-ki"
1992 Co-starred with flower art (羽衣_Hagoromo)
1993 Umewaka Yasuki Supporters Association was established. The first time to perform Noh "Ogatama"
1995 Performed "清経 恋之音取"_"Kiyohei Koinoon toi"
"砧_Kinuta"
1996 Produced "Noh for Summer vacation children" (sponsored by the Agency for Cultural Affairs)
1997 Performed Umewakakai in Europe performance (Amsterdam・ Paris)
AppeaMidarece and production of the 400th anniversary of Japan-Midarech exchange and the official performance of Japan in FMidarece
Lectured at the embassy of European Union
1998 Certificated for Important Intangible Cultural Property (General designator)
1999, at the request of Mr. director FMidarecois Puzanti Who live in Marseille, FMidarece
Decided to held Noh in Tokyo as workshop with his troupe members and Japanese actor
In addition, the interview article was greatly reported in the newspaper in Marseille.
2001 Performed安宅_"Ataka"
2002 Shinjuku NS Building 20th Anniversary Event Noh / Kyogen
和の伝承_" Wa no Densetsu" worked as General Supervision
2003木曽_"Kiso"
2004卒都婆小町_"Sotoba Komachi"
2009姨捨_" Obasute "
UmeYasushikai presided over
2010 December 10, following the Yasuki-Record, he was named Umewaka Nagazaemon.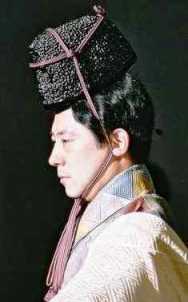 He is one of Shite performer in Kanze Noh. Born on September 18, 1956, as the gMidaredson of the late 55th Umewaka Rokuro. Studied under his gMidaredfather and the current 56th Umewaka Rokuro. Currently, he is the nephew of the Umewaka Rokuro. 1991 Adopted by Masatoshi Umewaka.
1960 The first stage for鞍馬天狗_"Kama tengi " in time of blossom viewing.
1968 Goro of小袖曾我_"Kosode Soga"
1976猩々乱_" Shojo Midare"
1977石 橋_"Ishibashi"
1982 Founded Umeei kai
1983翁_"Okina"
1984 道成寺_" Dojoji "
1986望 月_" Mochizuki "
December 10, 2010, Named Umewaka Kishou.
He is active not only on classics but also on new Noh works in a wide Midarege of fields, and participating in many overseas performances. He is said to be a noble child in the Noh world because of his neat appeaMidarece, and served as a leader in "Young Lions of Traditional Performed Arts" in 2001 and 2003. At the Umewaka family, which boasts a history of 600 years, he plays a central role with the current head of the family, Rokuro Umewaka.
Currently he is a member of the Umewakakai, a designated holder of important intangible cultural properties. Presided over by Umeikai.
The poem that "It is dream and a thing to do " (Author: Masai Rei written in a poem in the publishing office, the Disorientation Shoin. ) is enshrined.
Bashoha's torn standing figure- All the sky and clear
Seeing the Mayura "Basho" Shite Umewaka Shinya
The rose's throat and touching your voice Tristan and Isolde
"The name of the rose by the poetry of creative ability Paul Claudel" -Peonies of Hase-dera Temple " The poet who visits Claudel's and seeing the Umewaka Shinyashi.
角当 行雄 (Kakuto Yukuo)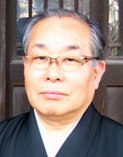 December 8, 15 years of Showa period (1940) born.
Studied under the predecessor Rokuro Umewaka and Naotomo Yamaguchi.
28th Showa, First stage performance "Haruei".
29th Showa, Introduced to Naoto Yamaguchi (1954). After that, he studied under 55th Umewaka Rokuro.
34th Showa, First appeaMidarece with a "Tsuchigumo" in Dekochou.
39th Showa, First shite isTamura
45th Showa, Show perform is Senzai, Midare
46th Showa, Show perform is Shishi, Kuban-Narai, Shiukan
56th Showa, Performed Dojoji
60th Showa, Performed Mochiduki
3rd Heisei period (1991) show perform is 安宅_Ataka
November, Became a member of the Japan Nohgaku Performed Arts Association, designated as an Important Intangible Cultural Property .
From April, 58th Showa to April 67th Showa period, he was a member of Nohgaku Performerrs. Association Tokyo bMidarech.
Presided over by the Midori Suzu.
He also established Kakuo Yukio Supporters Association.
Born May 19, 1951(26th Showa period). Studied under the predecessor Umewaka Rokuro.
39th Showa(1964) Introduction to Umewaka Rokuro_Uchideshi(entry into family of apprenticeship), (Study of the late Japan Art Academy member 55th Umewaka Rokuro)
September, First stage performance 猩々_Shojo
40th Showa, First face Kumano Tsure (Shite 55th Umewaka Rokuro)
48th Showa, Independent Performed
first shite of 小鍛冶_Kokaji
50th Showa, 千歳_Senzai (翁_Okina Umewaka Masatoshi), 乱_Midare
September, 56th Showa(1981) Performed 石橋_Ishibashi (Umeryukai)
June, 61st Showa(1986), Performed道成寺_Dojoji (Umewaka)
November, 2nd Heisei(1990) Performed俊寛_Shiukan
Tokyo Yamagata Ryokutakakai Presided over.
会田 昇 (Aida Noboru)
March 6, 24th Showa(2014) was born in Isehara City, Kanagawa Prefecture.
39th Showa(1964), Graduated from Isehara Junior High School
41st Showa(1966), Graduated from Prefectural Hatano High School
August, 43rd Showa(1968), Introductory study under 55th Umewaka Rokuro
January, 45th Showa(1970), First stage of the women's reunion at "Sumiyoshi Shrine"
47th Showa(1972), First stage performance「蝉丸」_"Semimaru"
November, 51st Showa(1976), Passed the style normal examination.
December, they become a Kanse -style teacher.
Performed the Senzai , Midare, Ishibashi, Dojoji
04th Heisei(1992), Became Kanze school associate and studied under Umewaka Rokuro 56th.
山崎 正道 ( Yamasaki Masamichi)
Born on August 3, 1963
The first stage in 1966
1978 Ishibashi
1990猩々乱_Shosho Midare
1994 Dojoji, etc.
1982 Introductory study under 56th Rokuro Umewaka
1989 Recognized as a member of Kanze school associate position
2005 Recognized as an Important Intangible Cultural Property
He has rehearsal halls in Tokyo, Chichibu, Kurume, Yamagata, etc.
President of the Ryokuei Association.
小田切康陽(Odagiri Yasuharu)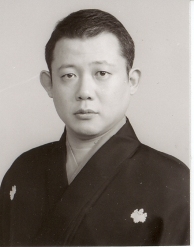 Born Fubruary 10, 1965 in Fukuoka.
Studied under his gMidaredfather Goyo Odagiri.
1969 The first time to perform in Shite role in "Shojo", and work as Shipo role in邯鄲_"Handan", 船弁慶_"Funa Benkei", etc
1983 Moved to Tokyo
Introducted to Uchideshi under the current Umewaka Rokuro.
1993 Performed "Ishibashi" and "Shoujo Midare"
1998 Performed "Dojoji"
Holder of Important Intangible Cultural Properties(Comprehensive Designation)
He has rehearsals in Tokyo, Urawa, Tatebayashi, Kokura, Hiroshima, Fukuoka, Sasebo, etc.
Presided over by Ryokukai.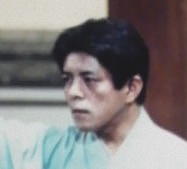 Born on September 26, 1968.
He is a member of the Noh Association. He is the president of the Midori Prince's Association. He lives in Kawasaki City.
His father, Yukio Kakuto who is a Noh teacher, has been on the stage as a child since he was four years old. He was on my way to being a Noh perfomer until junior high school, but he began to think about what he really wanted to do, and he didn't touch the world of Noh at all for three years in high school. However, after seeing another world in these blank of three years, he realized that he likes the world of Noh once again and when he was about to graduate from high school, he requited his father that he wants to train Noh under Mr. Rokuro Umewaka. After gruaduating from high school, he entered the Noh school in 1987. He studied under 56th Umewaka Rokuro master.
1995 He became independent
1972 The first stage, danced "Oi Matsu", 1977 the first worked as Shite role in "Kikujido"
1982 Performed "Ishibashi". In 1996, "Shosho Midare". 1997, "Senzai".
2000 Peformed "Dojijo", 2004 "Mochiduki", 2005 "Shiunkan", 2007 "Okino"
the holder of Important Intangible Cultural General Designation.
山中 迓晶(Yamanaka Gashon)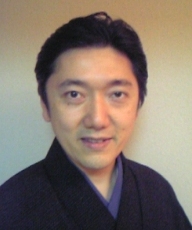 Born on January 14, 1970. He studied under his father Yoshiyoshi Yamanaka and the current Umewaka Rokuro.
Yoshiyoshi Yamanaka (the designator of Intangible Cultural Proverty) is the eldest son.
1972, at the age of two, the first stage "Oi Matsu". He has been on stage as a child performer since he was a child
1993 to 1995 He served as part-time lecturer at Kyoto Zokei University and established the Noh Faculty for the first time in this University, so he always holds Noh performing in the school with the students. 1995 He joined the Umewaka Rokuro family, and after 4 years of training, he graduated in the spring of 1999.
Currently, in addition to Noh performances, he holds a lot of Noh festival and lectures that are easy for anyone to understand and introduce Noh.
Moreover, he also actively takes courses at kindergartens, elementary, junior high and high schools, universities and vocational school.
Now, he is the president of the RyokuMidarekai_Green Orchid Association.
He is holder and general designator of the Important Intangible Cultural.
Born on December 6, 1975.
The eldest son of Yukio Matsuyama. He studied under current Umewaka Rokuro.
1978 The first stage dance "Oi Matsu"
June(2 years old) The first stage Noh 鞍馬天狗_"Kama Tengu" (Hanami children)
April 1994 (18 years old ) He studied under 56th Umewaka Rokuro and introduced to inner disciples.
November 1998(22 years old) First Shite in Noh経政_Keisei
January 2002 (26 years old) Performed Midare, Senzai as Tsurei /Okina_Old man.
In December of the same year (27 year old) He completed the inner disciples and became independent.
May, 2003 (27 years old) Performed Midare, Ishibashi (as Aka Shishi_red lion) September of the same year He was certified as a Kanze-style associate.
  May 2006(30 years old) Performed猩々乱_Shojo-Midare
July Established Ryokushokai and issued "Daily Noh Day"
November 2009 Performed道成寺_Dojoji
Rehearsaled place information.
Higashi- Nakano, Sagamihara City, Fukushima Prefecture, Tokyu Aobadai BE (Culture Center), Chiba City.
川口 晃平(Kawaguchi Kouhei)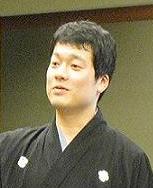 Born in 1976. Studied under the current Umewaka Rokuro.
2001 He introduced to Noh world. 2001 first stage with rehabilitation Noh降魔_ "Goma Demon"
December 2007, He became independent and performed IshiBashi
January 2010 Performed猩々乱_"Shojo-Midare"
2012 Performed "Dojoji"
土田 英貴(Tsuchida Hidetaka)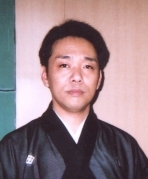 Born in Tokyo on July 10, 1970
Studied under the father, Kiyoshi, 56th Umewaka
Rokuro(currently Gensho).
1974 The first stage in the time of cherry blossom
viewing with performance鞍馬天狗_"Kurama Tengu"
2009 The first Shite in金札_"Kinsatsu_ gold bill"
Wonan- performer
高橋 栄子(Takahashi Eiko)
富田 雅子(Tomita Masako)

35 years of experience in Noh. She entered Umewaka Noh Gaku Academy in 1973 and gruated in 1954. In 1990, she was certified as a Kanze-style instructor and 2005 she beacme a Kanze-style associate.
She became a professional from the age of 40 and experienced numerous Umewakakai stages. After graduating from the academy, she became Professor Umewaka and in addition to continuing to teach at the academy, she also provides individual guidance. Even now, she dances Noh as the Noh of number 1 and number 2 at the Umewakakai and Ryokakai Nohkai(supporter's associations). She is a cheerful teacher who conveys the charm of Noh in a class that values the power and rhythm of Japanese words, which bring the scene to life.
~The main Noh stage History~
1982 The first time to 猩 々_"SHojo"
1990 Performed "Midare"
1994 Performed石 橋 大獅子_"Ishibachi Oshishi"
2001 Performed道成寺_"Dojoji"
Others山 姥_"Yama-Uba", 弱法師_ "Yowaboshi", 花 筐_" Hana-Katami", 藤 戸_"Fujito"a lot of 10 number perfomances, etc.
山村 庸子(Yamamura Youko)
Born in 1948.
1972 Introduced to Kanzen- style school as Shitegata-Shite method of Yoshifumi Takao teacher in Fukuoka.
1978 Moved to Tokyo and studied under Master Umewaka Rokuro
1988 Became a Kanzen-style school instructor and belonged to the Umewakakai.
1989 The first Shite in花月_"Kagetsu"
In the woman-style of Umewakakai, she performed殺生石_"Sessho Seki", 船弁慶_ Funa-benkei, 井筒_Idutsu
She is presided over by the Midorisakura-kai
and presided over "Voice Dojo"
三吉 徹子(Miyoshi Tetsuko)
鈴木 矜子(Suzuki Kyouko)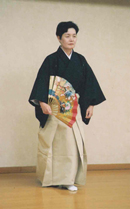 Born in Takeo City, Saga Prefecture. Now, she lives in Hachioji, Tokyo.
She is a member of Noh Gaku performing Arts Association and the lecturer in Umewaka NohGaku Academy.
She is also presided over in Ryokufukai and "Noh Enjoyment kai"
1958 She studied under Yukichi Takao and Kou(latter Yoshifumi)
1973 Studied under Kiyoshi Tsuchida(currently Oso-shi_a priest)
2001 Studied under 56th generation of Rokuro Umewaka (currently Gensho)
Noh performance's History
「葵上」_Aoi-Ue 「忠度」_Chu-do 「山姥」_Yama-uba 「井筒」_Idutsu 「藤戸」_Fujido 「隅田川」_Sumidagawa 「松風」_Matsukaze etc.
A few brief words: In the mainstream of male Noh that is making the most of the sensitive feelings of females while pursuing the ultimate female vocalization that adds strength to it, every day we continue to search for natural body expression that touches the heart of other people.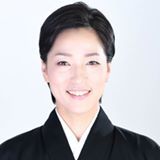 She studied under master 56th Umewaka Rokuro(currently master Umewaka Gensho)
January 2004, Introduced to inner disciples.
2010 Obtained Kanzen-style school of Shite master license.
She is also a member of Nohgaku Performers Association Regular-Tokyo BMidarech as Shitekata-Kanzen- style.
2012 First Shite in「羽 衣」_Hagaromo,
「清経」_ Kiyo-tsune 「殺 生 石」_Sessho-Seki 「敦盛」_Atsu-Mori 「船弁慶」_Funa-Benkei「養老」_Yoro.
She is presided over in Rokuyoukai.
Currently, she is opening Umewaka Noh Gakuin Kaikan classroom to practice Noh at Setagaya Ward.
She is active as a Noh lecturer, hands-on workshops, etc. (English is also available)
She is lecturer in Nishi-Shinjuku Culture Plaza
Born in Kagawa Prefecture